Where are the London property hotspots in 2022?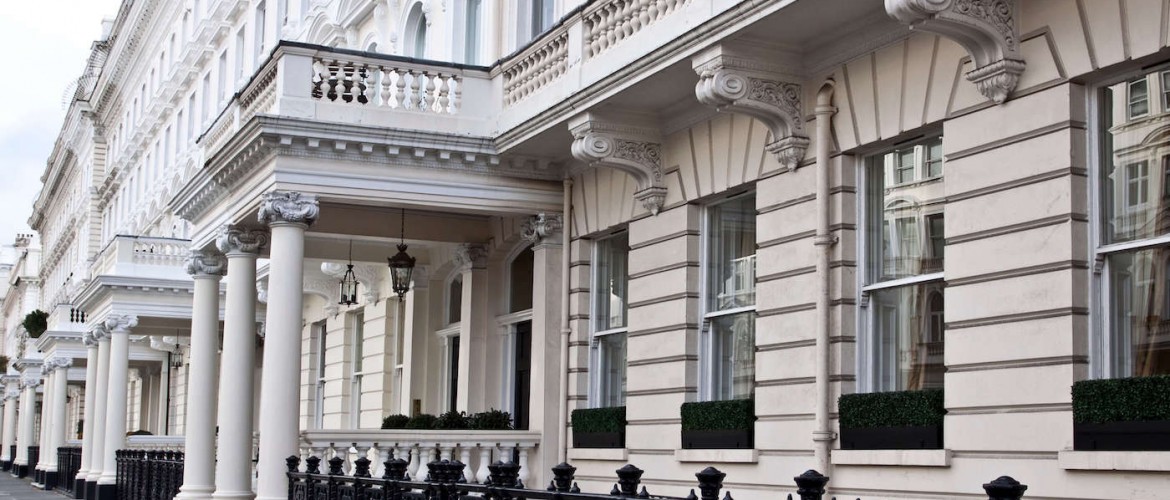 It is widely recognised that last year was another unpredictable, unprecedented year for the London and UK property market, the wider economy and the world as a whole. After the pandemic determined much of the property landscape during 2021, the question now is: what's in store for 2022? The hope is that we will see greater stability in the property market and confidence among sellers to put their properties on the market where demand continues to outstrip supply.
Squarepoint Surveyors have experienced London building surveyors with 20+ years of experience in property surveying and the construction industry. We provide professional building advice to a wide range of clients, including property management companies, investors and developers, using our vast property industry knowledge and technical expertise to advance our client's interests.
As far as London is concerned, recent research carried out by Knight Frank has revealed that demand in Prime Central London and affluent leafy suburbs is soaring as homebuyers are rediscovering their preference for the capital's traditional postcodes in established, well-connected areas. As the table below shows, the biggest increases were found in Marylebone, Belgravia and Mayfair.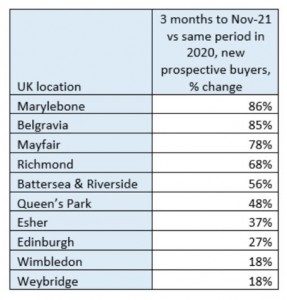 Source: https://www.knightfrank.co.uk/
Some of the most popular streets included Chiltern Street, Portland Place and Marylebone High Street, St Margaret's Village in Richmond, the new Battersea Power Station development, Wimbledon Village and the Mapesbury Conservation Area near Queens Park.
At the other end of the property market spectrum, there are some interesting London hotspots that offer excellent opportunities for landlords and investors. According to London estate agents Portico, the combination of affordable property prices, rental yield performance and local regeneration places the following locations at the top of the list of where to buy in the capital.
Tottenham offers a rental yield of 4.5% and substantial opportunities for equity growth, backed by various regeneration projects in the area.
Seven Sisters is an up-and-coming area that provides affordable London property prices close to many popular and vibrant neighbourhoods, and a 4.4% rental yield.
Edmonton is a thriving multicultural community with excellent transport links and huge regeneration benefits, offering attractive rental yields of around 5.5%.
Barking yields rental returns of around 5.3% thanks to the area's affordability and opportunity for growth on account of its connectivity and local regeneration efforts.
Ilford offers affordable property prices and 5.3% rental yields. The area is great for commuters, especially once the Elizabeth Line is operational.
Chadwell Heath is also set to benefit from the Elizabeth Line. This popular suburban area, close to vibrant neighbourhoods, offers affordable property prices and healthy yields of 5.5%.
Whether you are looking to invest in PCL property or an up-and-coming location, the capital offers many hotspots that are worth investigating for lucrative property investment in 2022. Squarepoint Surveyors operate throughout London, with three offices in Bloomsbury, North London and West London. We are a dynamic and client-focused firm of RICS Chartered Surveyors and a valuable professional point of contact for building survey services and party wall advice. For enquiries to discuss your property requirements, please get in touch.