Japanese Knotweed: Should you worry?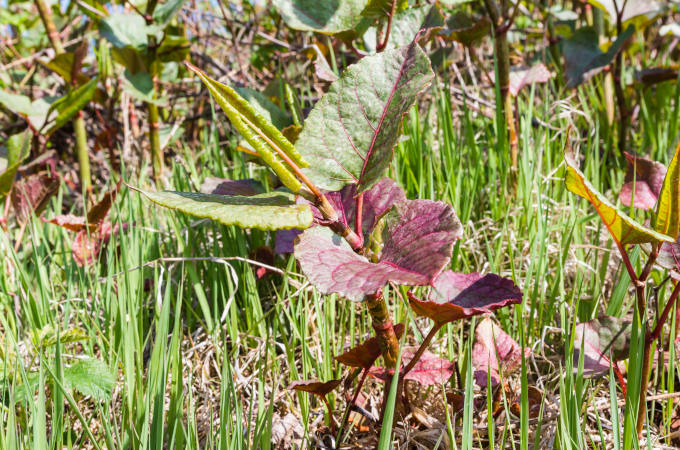 If the offer on your dream house has been accepted, you may be breathing a sigh of relief and looking forward to moving in. But if the Building Survey that you had the good sense to commission identifies the presence of Japanese Knotweed in the garden or vicinity, your troubles may be far from over.
What is Japanese Knotweed?
If you haven't heard of Japanese Knotweed, this blog will be an eye-opener to what is generally considered to be one of a homeowner's worst nightmares.
Japanese Knotweed is a highly invasive species of plant that is virtually indestructible and thrives just about anywhere. Known to be one of the most problematic species in the UK, it can grow up to 10cm per day, affecting the growth of other plants nearby, meaning it can cause real problems with biodiversity as well as flood management and damage to property.
How do you spot this pervasive species?
Your surveyor will be looking out for light green, shield-shaped leaves, with tall, hollow stems that look a bit like bamboo and can grow to 3 metres in height. There are clusters of small white flowers that bloom in upright formations.
While its aggressive growth may be a nuisance, the real problem comes when mortgage lenders resolutely refuse to finance properties that show evidence of Japanese Knotweed within 7 metres of their walls.
Which type of homes is most at risk?
Japanese Knotweed will thrive in any terrain, on any soil and just about anywhere in the UK. It was particularly popular during Victorian times, having been introduced as an ornamental plant in the 1820s, so properties constructed during the mid to late 19th century are most likely to be suffering from historic problems with this plant.
There are geographical plant trackers available to help you identify how much of a problem Japanese Knotweed is in your local area. Ask our team for details.
How serious is the problem?
Left to grow rampantly, Japanese Knotweed can develop with great speed and resilience, striking fear into householders up and down the country. This plant can damage building structures, taking advantage of any weak points already present. Building foundations and retaining walls, paving and tarmac have all been known to fall prey to Knotweed.
To keep it in check, Japanese Knotweed needs constant maintenance and is very difficult and extremely resistant to being eradicated completely. According to government figures, the cost of controlling existing Japanese Knotweed infestations lies somewhere in the region of £1.25 billion.
As a potential purchaser, you may well decide to steer clear of any property that has been diagnosed with this difficult plant. That said, it need not be a dealbreaker as long as you're armed and forewarned. Speak to the team at Squarepoint Surveyors to discuss the findings of your Building Survey or specialist report and let us help you understand the potential implications and ramifications of buying a house with Japanese Knotweed.