Do I need a survey if I have had a mortgage valuation?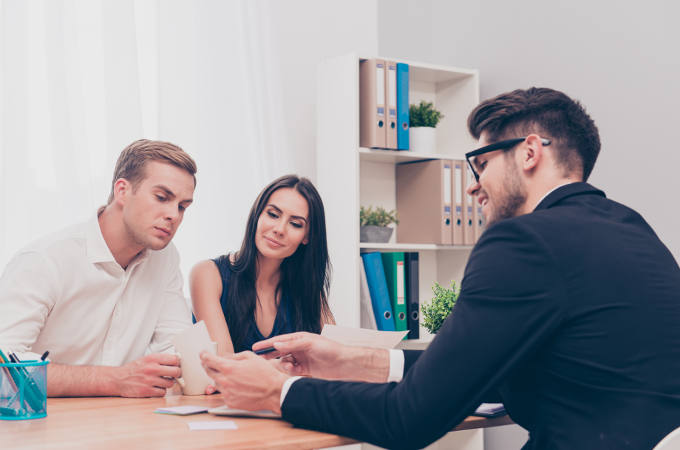 At Squarepoint, we aim to help every buyer make an informed decision about their property purchases. As part of this, we have put together this quick guide to explain the important differences between a mortgage valuation and a home survey, and why we highly recommend that every property buyer should get a survey.
Does everyone get a House Survey?
Buying a house or flat is a lengthy process and one of the most important financial commitments one can make. In order to protect the investment, you need to be sure that the property is in good condition, and that's where a survey comes in.
Getting a survey is not a legal requirement. Recent research discovered that more than 2.8 million residential property sales have been completed without one, with buyers presumably deciding that a green light following a mortgage valuation is sufficient to proceed with the purchase.
Unfortunately, what the majority of buyers may not realise is that a home survey and a mortgage valuation are two entirely different things. Confusing the two leaves homebuyers extremely vulnerable to hidden defects, expensive repairs and considerable legal issues when they move in.
What is a Mortgage Valuation?
Usually conducted by an appointed valuer or a specialised surveyor, a mortgage valuation is purely an exercise to check that the building is worth the amount you are going to pay for it. The report is usually based on the prices of comparable properties in the area, as well as the apparent condition of the house or apartment itself.
While it might seem like a useful tool for buyers to determine whether they are under- or over-paying for their new home, mortgage valuations are, in fact, carried out for the sole benefit of the lender. The results will be used to gauge whether the bank can recoup their losses by selling the property, should you default on your loan repayments.
What is checked on a Mortgage Valuation?
Lenders conduct mortgage surveys in a variety of ways. Traditionally, an assessor will visit the property to confirm its details and carry out a brief inspection. Mortgage valuations typically take around 15-30 minutes, giving the valuer just enough time to consider the superficial state of the property. Obvious defects that could have an impact on the property value will be noted, but it is in no way a detailed investigation into potential flaws lurking within the structure.
After the visit a short report will be compiled, which also takes into account recent sales transactions of similar properties in the local area and the supply and demand of the local market.
These days, surveyors can also determine the value of the property using recent online sales data and taking a quick look at the property from the road. If the lender considers the property to be a low-risk loan, they may commission a desk-based or drive-by valuation.
What is a Property Survey?
In comparison, an independent property survey is carried out specifically to report on the condition of a property, so that buyers can be fully informed about the home they are about to purchase. It will highlight any problems within the building so that potential repair costs can be considered before committing to a sale price.
There is more than one kind of survey, and buyers will find that the best option depends on the type of home they are looking at. At Squarepoint, we conduct surveys according to guidelines set out by RICS (the Royal Institution of Chartered Surveyors). RICS offers three levels of survey: Level 1 Condition Reports, Level 2 HomeBuyer Reports and Level 3 Building Surveys.
What does a Property Survey involve?
Each level of RICS survey provides a different amount of detail in the corresponding report, but in every case, you will receive clear information about the condition of your potential home, and whether there are any issues you should be concerned about.
A Level 1 Condition Report is the most basic inspection and only really suited to new or nearly buildings of standard construction that appear to be in good condition. It will provide a professional overview of the building's state of repair on the day of inspection.
For Level 2 and Level 3 home surveys, our surveyors will examine all visible aspects inside and outside the property to identify current building defects including damp, timber decay and structural movement, and also highlight any potential issues or possible future risks. A Level 3 Building Survey is the most in-depth report and best suited to old and large properties, non-standard constructions, buildings that have been extensively altered and doer-uppers.
The survey report uses RICS' traffic light condition ratings to indicate the severity and urgency of each defect found, and also provides recommendations for remedial action.
Does a Valuation mean a mortgage offer is approved?
Your mortgage AIP (Agreement in Principle) will have been made subject to certain conditions, and a satisfactory valuation will be one of these conditions. Your lender will insist on valuing the property to establish whether it is worth the loan you have applied for. This does not mean that your mortgage is automatically approved at this stage.
In fact, there are many reasons why the property may not meet lender requirements and the mortgage may declined after valuation. These include:
The condition of the property is unsatisfactory
The property's construction methods or materials don't fit with the lending policy
The selling price is deemed to be too high to reflect the property's true value
The property is located in an unsatisfactory area, e.g. high-risk flood zone
It is important to understand that the mortgage valuation is a critical element of the house buying process, but it is also one that you, the homebuyer, has no control over. The only way to gain a clear insight into the condition of the property, and the costs associated with any repair work that may be needed, is to commission your own independent property survey.
What happens if the valuation is lower than the mortgage offer?
A down-valuation by the mortgage company can be a real blow. This can mean that the lender will approve a lower mortgage amount than you applied for, which could make the home you want to buy unaffordable. It can also mean that your application may be rejected.
Arguing against an unfavourable mortgage valuation can be extremely hard unless you have access to specific comparable properties that support the price you are paying. That said, an independent property survey carried out by a RICS surveyor can provide credible insights coupled with robust cost estimates that may help you argue your case.
Get in touch
The differences between a Mortgage Valuation and an independent property survey couldn't be clearer. If you are buying your next home with a mortgage, your lender will carry out their own valuation as one of several conditions of the loan being approved. However, this does not mean that you will be provided with in-depth information about the property's condition.
A RICS home survey carried out by our experienced surveyors is the best way to obtain all the important facts you need to gain a clear insight into the building's state of repair and maintenance requirements to enable you to make the right purchasing decision.
If you are about to purchase a home anywhere in Notting Hill, Chelsea or North London and aren't sure about the kind of survey you need, please get in touch. Our team of expert surveyors have extensive experience working with all kinds of property and can help you decide the best option for bringing you total peace of mind.