5 tips for construction project management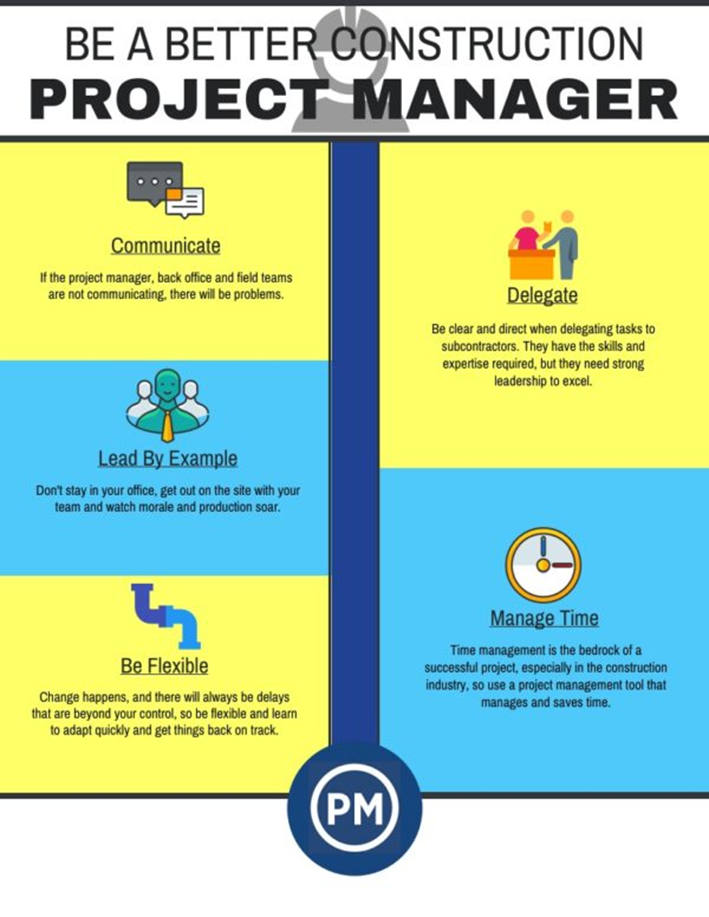 How to manage a construction project step by step
Building projects are always more complex than first thought, which is why effective project management is critical to the success of any work carried out. Squarepoint Chartered Surveyors can manage the construction of a wide variety of residential and commercial projects – from loft extensions and building extensions to full refurbishments and new builds.
Construction projects invariably involve several teams and lengthy timelines, which can make the task of the PM a real challenge. Keeping on top of subcontracted costs, bids, materials and deadlines while juggling on-site duties and office paperwork can be overwhelming.
Based on our vast experience of building projects large and small, we've put together 5 basic tips to help project managers stay on track, from definition & design through to delivery.
1 – Communication tips for construction project managers
If 'location, location' is every estate agent's mantra, 'communication, communication' must surely be its equivalent in the world of PM. Nothing can delay and derail a building project more quickly than the project manager, the back office admin functions, architects, subcontractors and all the operatives in the field not being in sync.
The right collaboration tools are key to ensuring everyone is kept in the loop and understands their roles and responsibilities so that the build is kept on track. This will be a combination of on-site and off-site meetings, phone calls, emails and app-based communications, backed up by centralised file storage with easy access to project plans and documentation.
2 – Delegate confidently
Good leadership skills are the mark of an effective project manager. Rather than being an uncompromising taskmaster known for whipping the team into shape, make a human connection to encourage feedback and build respect. This, in turn, will give you the confidence and authority to delegate successfully.
Assigning tasks and responsibilities should be clear and unequivocal, and are best communicated in a way that engenders support and understanding. Be sure to monitor progress and clarify/redress where necessary or issue further instructions where necessary. Make a note of any areas where confusion most easily arises and aim to communicate these better next time.
3 – Increase your on-site presence
Construction project management is largely an administrative task requiring a major part of the PM's time spent in the office. That said, don't underestimate the crucial importance of your presence on-site! Taking an interest in the progress of the build by making regular site visits or rolling up your sleeves to 'muck in' will demonstrate your own passion for the project and give a renewed sense of purpose to the rest of the team.
The PM's frequent visible presence on the construction site will engender a sense of team, raising morale, motivation and productivity in the process, just as long as the atmosphere is one of collaboration and respect, not fear and retribution.
4 – Time management in construction projects
Clearly, effective time management is critical to the success of any construction project; time is money! The best way to stay organised is by using construction-focused PM management software and online scheduling tools that help you track and share every aspect of the project's lifecycle in real-time.
Tech tools will allow the entire team to stay connected, wherever they are. What's more, you can submit timesheets, monitor project deliverables, make modifications and adjustments and manage all areas of operation right from your smartphone, tablet or laptop.
5 – Effective construction management
Finally, being adaptable to unforeseen delays and dealing swiftly and effectively with changes to the original project plan is one of the key skills of a good PM. Setbacks are inevitable in virtually any construction project.
From the design, pre-construction and procurement phases onwards, every project phase requires extensive planning and may need revision before the next step can be taken. Adapting nimbly to any changes required may well make the difference between a satisfied or unhappy client, and between profit or loss.
For approachable, expert project management advice and guidance for your next construction project, please contact the team at Squarepoint Chartered Surveyors on 0207 651 0000 or message us with your enquiry.